The Vampire Council
Laurie Bowler
$0.99
An exciting new vampire series that will take you into a world where vampires rule and humans are treated and used as their pets.

Natalie has been sold to another vampire after an excruciatingly painful experience with her previous master. She only expects to be treated like vermin but is confused when she finally meets her new master Aries. Aries is different to most vampires and feels an indescribable pull to Natalie, she is beautiful beyond words, and although he knows it is forbidden for his kind to have anything to do with humans other than to use them as pets and property he cant resist the temptation.

Will Natalie accept her new master and be able to live in peace? Will Aries realise that as the head of the council, he cannot have any feelings towards his pets, or will he risk everything?

Compound 26
Krista Street
FREE
A deadly virus. A brilliant, young researcher. And an infected survivor who threatens to steal her heart.
In a society ruled by sanctions and curfews, Dr. Meghan Forester emerges as the youngest and most promising scientist to join the fight against Makanza—the deadly virus that's ravaged the world.
Inside Compound 26, a giant government-controlled research facility, Meghan's new job involves studying the Kazzies, the rare survivors who carry the virus and now exhibit supernatural powers. But as her work unfolds, Meghan's horrified at the brutal and unethical practices the Kazzies are subjected to.
And most surprisingly, she falls in love with one.
Faced with growing conflict over helping the Kazzies versus following the Compound's strict policies, Meghan must choose: obey the government's unethical practices or risk everything to save the only man she's ever loved.

Starshine: Aurora Rising Book One
G. S. Jennsen
FREE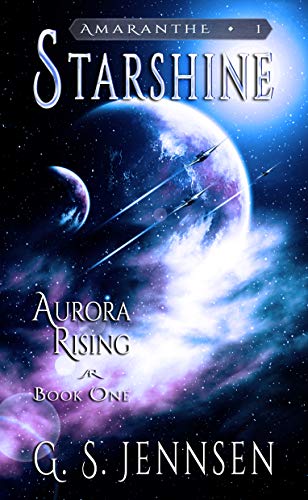 SPACE IS VAST AND UNTAMED, AND IT HOLDS MANY SECRETS.
Now two individuals from opposite ends of settled space are on a collision course with the darkest of those secrets, even as the world threatens to explode around them.
The year is 2322. Humanity has expanded into the stars, inhabiting over 100 worlds across a third of the galaxy. Though thriving as never before, they have discovered neither alien life nor the key to utopia. Earth struggles to retain authority over far-flung planets and free-wheeling corporations while an uneasy armistice with a breakaway federation hangs by a thread as the former rebels rise in wealth and power.

Alexis Solovy is Earth Alliance royalty, her father a fallen war hero and her mother an influential military leader. But she seeks only the freedom of space and has made a fortune by reading the patterns in the chaos to discover the hidden wonders of the stars.

Nothing about her latest objective suggests the secret it conceals will turn her life— not to mention the entire galaxy—upside down. But a chance encounter with a mysterious spy leads to a discovery which will thrust Alex into the middle of a galactic power struggle and a sinister conspiracy, whether she likes it or not.