Against All Odds
Jeffery H. Haskell 
$0.99
The wrong crew. The wrong ship. The right Captain.

Idealistic navy lieutenant Jacob Grimm just wanted to honor his mother's sacrifice in the last great war. When he's forced to return fire and destroy a squadron of ships to save his own, he thinks he's the hero…

Until they discover the ships are full of children.

Disgraced and denied promotion, Jacob's career is over. That is until the head of ONI needs a disposable officer to command a battered destroyer on the rim.

There's just one problem, Interceptor hasn't had a CO in months and the ship is a mess. Worse, the system he's assigned to is corrupt and on the verge of all-out civil war with the Alliance.

However, no one told Jacob he was disposable.

Pirates, smugglers, and Caliphate spies complicate the situation and one captain with an old ship can't enforce the law, let alone stop anyone.

The single greatest discovery of all time is about to change intergalactic politics forever. If Jacob doesn't find a way to succeed, then it won't just be the end of the Alliance, it will be the end of freedom for humanity.

Riwenne & the Mechanical Beasts
Kristen S. Walker 
FREE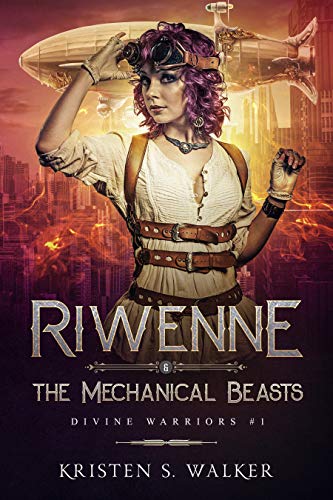 A clumsy school girl with the magic of a goddess. Mechanical beasts attacking her friends. Can she become a divine warrior and save the floating city?
Fifteen-year-old Riwenne is bad at school, chronically late, and lost in a daydream, but she has help from her best friend, Nexita—until the two of them get separated. During the mysterious test on Choosing Day, they both wanted to become priestesses, an important job in the sky city. But only Riwenne became a novice,
Nexita was chosen by the engineers. Now she's on her own for the first time in her life.
When a talking bird tells her that her best friend is under attack, Riwenne faces her worst fear. She must become a divine warrior and save her best friend from mechanical beasts!
As she juggles warrior training and priestess duties, Riwenne can't let herself get distracted. She must recruit other warriors and lead the quest to find out the mystery behind the mechanical beasts, but most of all, she must follow her heart.
If she trusts the wrong person, she'll face the gods' judgment.
Riwenne & the Mechanical Beasts is the first book in a steampunk fantasy series for teens. If you like magical girls, monstrous machines, and high-flying adventures, then you'll love Kristen S. Walker's series of guns and gears.

Click here for all available retailers >>
When You Had Power
Susan Kaye Quinn 
FREE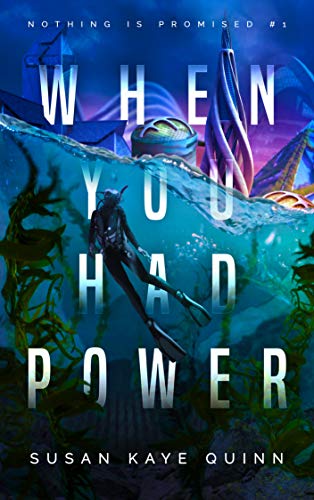 For better, for worse. In sickness and in health.
It's a legal vow of care for families in 2050, a world beset by waves of climate-driven plagues.
Power engineer Lucía Ramirez long ago lost her family to one—she'd give anything to take that vow. The Power Islands give humanity a fighting chance, but tending kelp farms and solar lilies is a lonely job. The housing AI found her a family match, saying she should fit right in with the Senegalese retraining expert who's a force of nature, the ex-Pandemic Corps cook with his own cozy channel, and even the writer who insists everything is stories, all the way down. This family of literal and metaphorical refugees could be the shelter she's seeking from her own personal storm.
She needs this one to work.
Then an unscheduled power outage and a missing turtle-bot crack open a mystery. Something isn't right on Power Island One, but every step she takes to solve it, someone else gets there first—and they're determined to make her unsee what she's seen. Lucía is an engineer, not a detective, but fixing this problem might cost her the one thing she truly needs: a home.
When You Had Power is the first of four tightly-connected novels in a new hopepunk series. It's about our future, how society will shift and flex like a solar lily in the storms of our own making, and how breaks in the social fabric have to be expected, tended to, and healed. Because we're in this together, now more than ever before.