Vessels
Rachael Dunn
$0.99
An ancient Egyptian-inspired fantasy adventure from Rachael Dunn.
Ashira can heal with a touch and command the dead. And she would like her kingdom back.
After all, she is the reincarnation of the legendary pharaoh Nephtet-Ka. It's hers by rights. The prophecy said so after all.
But she will find that an empire won't just hand over power, even if she unleashes an army of reanimated corpses on those who stand in her way.
Fleeing an empire that wants her dead, she will have to cross the desert and seek out new allies and counsel from the ancient priest who started the prophecy. Her only ally is Mwarthes, a sly assassin who speaks with serpents and lets his curiosity get the better of him. Will he help her reclaim her crown from the Alvari empire?
Or will she end up another corpse in the desert?

Outliers
Kate L Mary
FREE
"Fear is normal, Indra, it is what you do with that fear that determines if you are strong or weak."
In the dusty ruins of the world, three groups exist: the Sovereign, the Fortis, and the Outliers. Indra is an Outlier. Living on land that has not healed from the poison of the past, the Outliers have adapted – but to the Sovereign and the Fortis, they are nothing.
For centuries the Fortis have made their abuse of Outliers a sport, but when Asa comes to Indra's rescue, she sees something different in him. Something that marks him as so much more than just a Fortis guard.
But when Indra's world begins to unravel, even the quiet alliance she and Asa have formed cannot save her from the wrath of the Sovereign. In one life-altering moment, everything Indra has ever known is ripped away, forcing her to face a world even more harsh and unforgiving. Broken and scarred, Indra finds herself on a journey that will challenge everything she's ever been taught, learning along the way that she's stronger than she ever imagined. Maybe even strong enough to free her people forever.
An emotional first book in an exciting dystopian series, perfect for fans of The Hunger Games and The Handmaid's Tale.

Apocalypse
Kyle West
FREE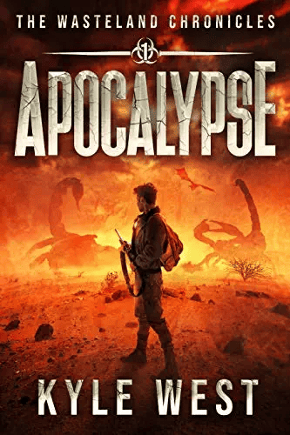 A world-ending meteor. An invasion of monsters. A desperate fight for survival…
Alex Keener has lived all of his sixteen years in Bunker 108. He's walked the same metal halls, seen the same faces, has followed the same rules. All that changes when a viral outbreak forces him to flee the safety of his bunker.
Outside, he discovers a barren world twisted by the impact of the meteor Ragnarok thirty years ago. Alone, he must wander a brutal landscape, where every breath is a fight for survival. Monsters haunt the planet's surface, and nothing of the old world remains.
Can Alex survive this hellish wasteland, or will he become its newest victim?