Elemental Rising
(The Elemental Trilogy Book 1)
Toni Cox
$0.99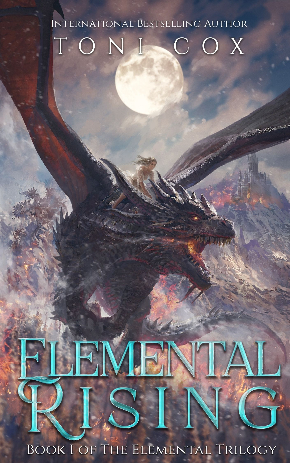 *** The epic fantasy trilogy is now complete.***

***Start your magical journey with Elemental Rising.***

NOTE: Same great books – Brand new covers

Maia, Elf Princess of Grildor, has trained her entire life to be the Elemental of her people. Yet, when she returns home to Elveron after her final test, disaster strikes. She has brought with her the very thing she tried to leave behind.

Faced with responsibilities she thinks she is not ready for, a love she does not reciprocate, and a threat to her people that might kill them all, she is suddenly forced to become what she is meant to be—a Prime.

An army more terrible than the nation of Grildor ever had to face is suddenly at the Gate, and Maia, with the help of her dragon, Midnight, must face her fears and the challenges of saving her people.

The appearance of Death, however, might derail all her plans. Will the bad omen mean the end of them all, or can Maia overcome that which holds her back from true power?

Find out now in this magical fantasy of an elven princess and the journey to become who she was meant to be. Toni Cox grabs you from the first page and takes you on a rollercoaster ride through a magical kingdom and the evil one princess must stop to save a nation.

"Cox has created characters; a world; a story that is Tolkien worthy. She has developed something unique and rich in imagination." Sian B. Claven (Author of The Butcher books)

"Maia is an incredible character to follow. Toni Cox has managed to bring something new, exciting, and seriously addictive to the fore." Robyn Victoria Castles (TBB)

The Lazarus Men: A Lazarus Men Agenda (The Lazarus Men Agenda Book 1)
Christian Warren Freed
$1.99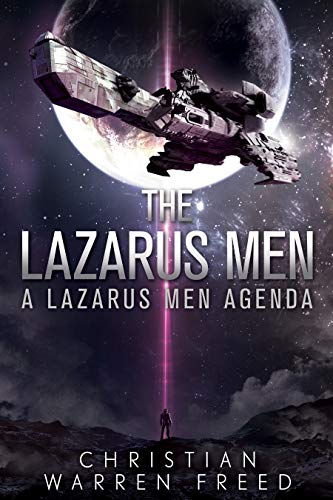 Welcome to the world of the Lazarus Men.

A thrilling sci-fi noir adventure combining the best mystery of the Maltese Falcon with the adventure of Total Recall and suspense of James Bond.

It is the 23rd century. Humankind has spread across the galaxy. The Earth Alliance rules weakly and is desperate for power. Hidden in the shadows are the Lazarus Men: a secret organization ruled with an iron fist by the enigmatic Mr. Shine. His agents are the worst humanity has to offer and they are everywhere.

Gerald LaPlant's life changes forever the day he accidentally witnesses a murder and discovers an alien artifact in his pocket. Forced to flee, he is chased across the stars by desperate men who want what he has and are willing to stop at nothing to get it. Along the way Gerald meets a host of villains and heroes, each with hidden agendas. If Gerald has any hope of surviving, he must rely on his wits and avoiding the one thing that could get him killed more than the rest: trust.

For he has the key to the galaxy's greatest treasure. Half want him dead. Half need him alive.

It's a race against time to see which wins.

Purchase the Lazarus Men and start your adventure today.

E
Kate Wrath
FREE
Life is harsh. It makes no exceptions. Not even for the innocent.

Outpost Three: a huddle of crumbling buildings choked by a concrete wall. Cracked pavement, rusted metal, splintering boards. Huge robotic Sentries police the streets, but the Ten Laws are broken every time one turns its back.

Eden is determined, smart, and a born survivor. Stripped of her memories and dumped on the streets of the Outpost, slavers and starvation are only the beginning of her problems. A devastating conflict is coming that threatens to consume her world and tear her newfound family apart.