The Nine
C.G. Harris
$0.99
Hell is not what you think … It's bone-chilling.
Gabe is a good guy making the best of eternity in a place not known for its hospitality — until he is recruited by Judas Iscariot (yes, that Judas) to join a sect of double agents dedicated to sabotaging the mayhem being released on Earth.
Armed with a skill set of irritating quips and zero knowledge of the modern world, Gabe must figure out how to work with his beautiful, tough-as-nails partner without botching the mission or revealing his true identity.
If this unlikely hero can't figure it out before disaster strikes, facing the wrath of Hell will be the least of his worries …
If you like snarky characters and dark humor, then you'll love The Nine, the first book in the action-packed, supernatural Judas Files urban fantasy series. Series now complete!
Winner of the Colorado Indie Author Project award for Adult Fiction!

Click here for all available retailers >>
A Conjuring of Ravens: A Magepunk Progression Fantasy (A Practical Guide to Sorcery Book 1)
Azalea Ellis
$0.99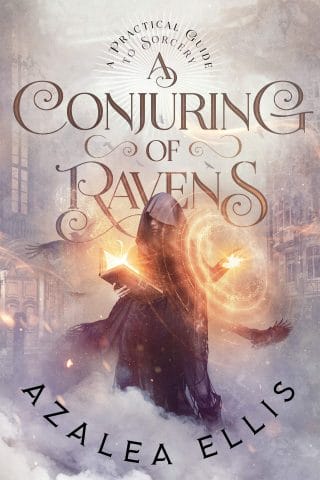 In a world where magic is a science, Siobhan is a genius.
But even geniuses need schooling.
When Siobhan stumbled into the theft of a priceless magical book, she thought her dreams of becoming the world's most powerful sorcerer were destroyed.
But then a mysterious spell changed her life forever…
Siobhan is now wearing the body of a strange man and has a new identity – Sebastien. With a new chance for a new start, she allies herself with a local gang and finds herself bound by vow to repay them in magic and favors.
But as Sebastien's reputation begins to bloom, and Siobhan's old enemies still lurk in the shadows, she quickly realizes that the secrets of this world are deeper and darker than she ever could have imagined.
Forced to juggle the two sides of her double life, Siobhan is determined to uncover the truth and take control of the name they gave her – The Raven Queen.
Get A Conjuring of Ravens by Azalea Ellis now – a hard fantasy story full of compelling characters, a detailed magic system, and an unbreakable force of Will.

Click here for all available retailers >>
The Soul Thief
Kim Richardson
FREE
Alexa has a very big problem. She's dead.
Worse, instead of meeting her maker, she's pulled into the world of the Guardian Angel Legion—a secret band of angels dedicated to protect mortal souls from demons. But Alexa's life takes a thrilling and terrifying turn when she's sent back to the mortal world to investigate a series of murders and missing souls and is attacked by a demon.
But are demons responsible for the killings? Or is it something else? An ancient, evil shadow grows over the world, and with it a force more terrible and destructive than the world has ever seen. Can Alexa find a way to stop it or will it doom the mortal world forever?
A fiercely entertaining fantasy filled with adventure, intrigue, and romance, the rich world of The Soul Thief is perfect for fans of The Mortal Instruments and The Dark Artifices.